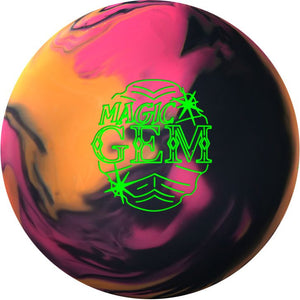 Roto Grip Magic Gem Bowling Ball
Roto Grip Magic Gem Bowling Ball


Recognizing the unparalleled success achieved by bowlers of diverse skill levels worldwide with the Gem line, we deemed it crucial to create a distinctive and flawless follow-up installment. It didn't take long for us to realize that by incorporating the exceptional attributes of both previous Gem releases, the MicroTrax Hybrid had emerged as the pivotal element, elevating this creation to uncharted beauty.
We fine-tuned the precise ratios for each chemical element, perfectly complementing the blended nanoparticles infused within the coverstock. This critical step ensured the ball's triumphant conquest of even the toughest Medium/Heavy Oil conditions.
In summary, the Magic Gem excels at generating skid in the front part of the lane, while the Defiant LRG showcases its dominance by gripping the midlane and delivering the most formidable continuation among high-end asymmetric pearl balls available in today's market.
DEFIANT LRG CORE
After recent in-depth studies on flare migration and core tendencies, we revisited the Defiant Series of bowling balls. This series had featured a core that was ahead of its time in terms of flare migration, resulting in a longer, more consistent motion. Upon further evaluation and testing, we discovered that modifying the composite of this core shape allowed us to create the DEFIANT™ LRG CORE. This newest core offering provides the fastest revving, strongest continuing, and lowest RG asymmetrical core in the history of our products.
---
We Also Recommend