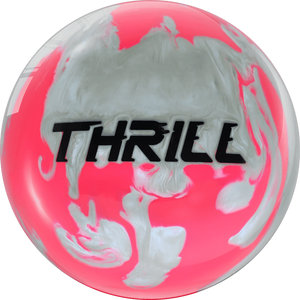 Motiv Top Thrill Hybrid Bowling Ball
Motiv Top Thrill Hybrid Bowling Ball
The Top Thrill line is developed for premium performance on dry lanes.  The latest additions to the MOTIV product line are the Top Thrill Solid and the Top Thrill Hybrid.  These two balls were developed for world class performance on dry lanes.  While others develop "entry level" bowling balls, we at MOTIV focus on premium performance for the varied environments a competitive bowler is likely to encounter.  With peak performance in mind, the new Top Thrill Solid and Top Thrill Hybrid are designed for specific needs expressed by bowlers.
The Halogen V2 core returns for these two Top Thrills as it is perfect for performance in light oil.  It combines a slow-spinning high RG core for easy length and a lower differential to provide 2-3 inches of track flare potential.  The moderately low differential allows for a clear progression within the MOTIV product line, stepping down from balls intended for medium-dry lanes.
The Top Thrill Hybrid utilizes Turmoil XP2 Hybrid coverstock, which a higher performance option than the original Turmoil XP used previously in the Top Thrill line.  As a result, bowlers will see more traction in the mid lane with greater down lane motion.
When to use
Speed Dominant Bowlers – Speed dominant players will likely use the Top Thrill line when the lanes are very dry or on shorter oil patterns when urethane balls are not an option.  The Top Thrill Hybrid will be most useful when more down lane motion is needed, while the Top Thrill Solid is ideal on shorter patterns.
Balanced Bowlers – For balanced bowlers, dry lanes and at the end of long blocks of competition are ideal for the Top Thrill line.  Balanced bowlers competing on a second shift or in tournaments with longer formats will find great use for the Top Thrills.  Often, balanced bowlers find themselves lost after urethane has transitioned lanes.  In those cases, the Top Thrill Solid allows for straighter angles is a great solution.  When the patterns are longer and bowlers want to create more angle, the Top Thrill Hybrid should be used.
Rev Dominant Bowlers – For rev dominant bowlers, the Top Thrills are a must in the bag.  The Top Thrill solid is a great option for lower volume fresh patterns where straighter angles are in play and other balls are just too strong for the angles in play.  The Top Thrill Hybrid is an outstanding burn ball for rev dominant bowlers.  While the solid is better on light oil from shallow angles, at the end of the block, the Top Thrill Hybrid will be useful from steep angles.
---
We Also Recommend