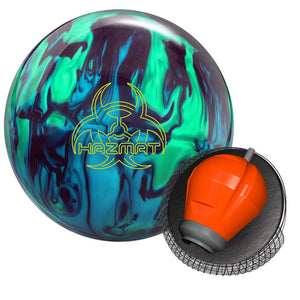 Hammer Hazmat Bowling Ball
Hammer Hazmat Bowling Ball
Expected Release Date is 11/16/2023!
Color: Black/Sapphire/Jade

Coverstock: HK22 - Semtex Hybrid

Weight Block: Hazmat

Factory Finish: 500, 1000, 1500 Siaair / Factory Compound

Radius of Gyration (RG): 16lbs - 2.492; 15lbs - 2.479; 14lbs - 2.501

Differential (Diff): 16lbs - 0.048; 15lbs - 0.055; 14lbs - 0.055

Intermediate Differential (Diff): N/A

Fragrance: N/A
Additional Product Information:
Hammer is proud to offer the broadest range of core and cover options in bowling. We are excited to enhance the product line by adding a "big" shiny symmetric ball, the Hazmat. The Hazmat is a lower RG and higher Differential core that will help the ball pick up in the mid-lane and have a strong and continuous down-lane motion. The base cover is the extremely popular and highest-performing HK22, and we've used the Symtex Hybrid additives. The core and cover combination of the Hazmat creates a big hooking and never-quitting ball motion that bowlers love to see. 
---
We Also Recommend