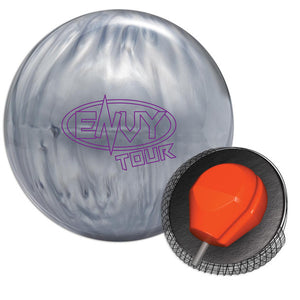 Hammer Envy Tour Pearl Bowling Ball
Hammer Envy Tour Pearl Bowling Ball
Expected release date is 09/21/2023!
Color: Chrome
Coverstock: HK22 - Envy Pearl
Weight Block: Obsession Tour
Factory Finish: 500, 1000, 1500 Siaair/Factory Compound

Flare Potential: High
Radius of Gyration (RG): 16lbs - 2.484; 15lbs - 2.469; 14lbs - 2.485
Differential (Diff): 16lbs - 0.029; 15lbs - 0.034; 14lbs - 0.034
Intermediate Differential (Diff): 16lbs - 0.011; 15lbs - 0.013; 14lbs - 0.013
Fragrance: N/A
Additional product information:

Envy Tour has quickly become a staple in the Hammer line; the unique core numbers and motion are different from anything on the market. We are excited to expand the line and introduce an Envy Tour that is longer, needs less oil, is still predictable, and always makes the move on the backend. The addition of HK22 poured in a chrome color, along with the performance you'd expect from an Envy Tour, makes this piece a must-have for every Hammerhead out there. 
---
We Also Recommend