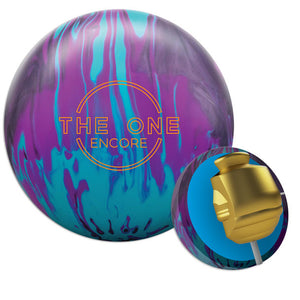 Ebonite The One Encore Bowling Ball
Ebonite The One Encore Bowling Ball
Expected release date is 09/21/2023!
Color: Teal/Graphite/Violet
Coverstock: HK22 - GB 14.4 Hybrid
Weight Block: Centrex Symmetrical Mass Bias
Factory Finish: 500, 1500, 4000 Siaair
Flare Potential: High
Radius of Gyration (RG): 16lbs - 2.474; 15lbs - 2.466; 14lbs - 2.493
Differential (Diff): 16lbs - 0.049; 15lbs - 0.056; 14lbs - 0.053
Intermediate Differential (Diff): 16lbs - 0.021; 15lbs - 0.027; 14lbs - 0.025
Fragrance: N/A
Additional product information:
Ebonite's best-selling ball last season is back for an encore in a hybrid version featuring HK22. The One Remix produced a lot of backend motion for a solid, without HK22, and was a crowd favorite. With this release, we have cranked up the performance by adding HK22 to the famous GB14.4 cover and Centrex core. Bowlers should have a lot of confidence in this release since HK22 has become the cover standard for performance, and the Centrex core has been inside some of the best balls in history. This One will leave you wanting more!
---
We Also Recommend