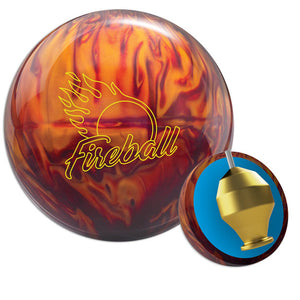 Ebonite Fireball Bowling Ball
Ebonite Fireball Bowling Ball
Expected release date is 09/21/2023!
Color: Red/Gold
Coverstock: HK22 - GB 10.7 Pearl
Weight Block: Fireball
Factory Finish: 500, 1000, 1500 Siaair Micro Pad / Factory Compound
Flare Potential: High
Radius of Gyration (RG): 16lbs - 2.528; 15lbs - 2.519; 14lbs - 2.539
Differential (Diff): 16lbs - 0.034; 15lbs - 0.039; 14lbs - 0.038
Intermediate Differential (Diff):

 N/A

Fragrance:

 N/A
Additional Information:
Ebonite has produced some of the best balls on the market at a value price for a long time. It's hard to find a better ball for the price than a Game Breaker or even the One. The new Ebonite Fireball outperforms its price point and will be a great addition to any level of player's bag. The Fireball has a modified lightbulb core shape and a skid-flip cover, GB10.7, with HK22. This is a great go-to piece on conditions with less volume for a competitive bowler, but newer bowlers will love its color, performance, and value.
---
We Also Recommend