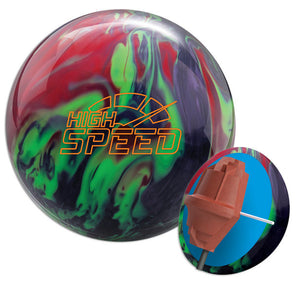 Columbia 300 High Speed Bowling Ball
Columbia 300 High Speed Bowling Ball
Expected release date is 09/21/2023!
Color: Smoke/Lime/Scarlet
Coverstock: HK22 -Formula 1 Hybrid
Weight Block: Shifter
Factory Finish:  500, 1000, 1500 Siaair Micro Pad / Factory Compound
Flare Potential: High
Radius of Gyration (RG): 16lbs - 2.480; 15lbs - 2.478; 14lbs - 2.494
Differential (Diff): 16lbs - 0.049; 15lbs - 0.050; 14lbs - 0.050
Intermediate Differential (Diff): 16lbs - 0.015; 15lbs - 0.015; 14lbs - 0.015
Fragrance: N/A
 Additional Product Information:
Columbia 300 has the need for more speed! The Speed line charged onto the market with a TOC win, and the next release, Top Speed introduced HK22 to the bowling world. The Speed series is synonymous with great performance, and the new High Speed will not disappoint. The High Speed a hybrid version of HK22 with the Formula 1 additives that made the Top Speed so good. The new High Speed will give bowlers excellent motion through the middle of the lane and strong continuation through the pins.
---
We Also Recommend