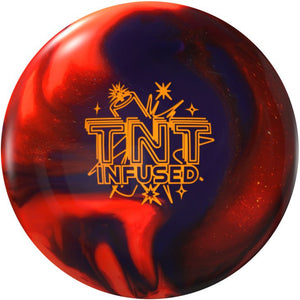 Roto Grip TNT Infused Bowling Ball
Roto Grip TNT Infused Bowling Ball
This item is expected to be released November 3, 2023.
Thanks to the relentless efforts of our research and development team, we have discovered yet another groundbreaking formula. Introducing the TNT line, a benchmark ball that promises to redefine explosive power in bowling. With its innovative Torpex Core and advanced Torque Sphere Technology, coupled with the cutting-edge eTrax™ PLUS Hybrid coverstock, this ball is designed to generate unparalleled torque and incredible projectile force. Prepare to witness a game-changer that will leave your opponents in awe, seeking cover, and even considering calling for backup.
TORPEX™ CORE
By positioning the TORQUE SPHERE just above the inner equator of the TORPEX Core, we discovered a remarkable dual effect. Not only did it give birth to the most symmetrical and low RG Roto Grip component ever, but it also unleashed a higher differential. This remarkable combination leads to enhanced overall ball motion and reduced pin deflection.
ETRAX™ PLUS HYBRID COVERSTOCK
First introduced in the pearlized form, we felt there was no better time than now to unleash the hybrid version on this brand-new core shape and following up the solid TNT. Providing the perfect blend of grip and responsiveness to friction than our forever famous eTrax solid coverstock, this cover is still a step down from our super aggressive MicroTrax solid coverstock material. Bottom line, cleaner through the front of the lane than MicroTrax.
Engineered for Medium to Medium/Heavy Oil Conditions
---
We Also Recommend